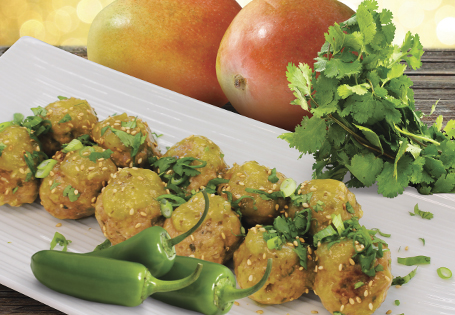 Mango Jalapeño Party Balls
Directions:
Preheat oven to 375°.
For the meatballs: In a large bowl, combine all ingredients and mix until well incorporated. Reserve.
Shape into tablespoon-sized meatballs and place on parchment-lined baking sheet. Bake for 15 minutes or until internal temperature reaches 165°.
For the glaze: In a food processor, combine mango, onion, jalapeños, cilantro, garlic and salt. Puree until smooth and transfer to a small saucepan. Whisk in honey, orange juice and water. Over medium-high heat, bring glaze to a boil, reduce heat and simmer for 10 minutes.
Toss meatballs in glaze. Garnish with cilantro, green onions and sesame seeds.
TIP: Form the meatballs the night before to reduce prep time. Use a slow cooker to keep prepared meatballs warm.

Recipe Courtesy of Chef Audrey, ALDI Test Kitchen


The nutritional and special diet information provided with recipes on the site is intended to be a helpful educational resource. The information is not intended to be a substitute for medical advice by a licensed health care professional.

Product information can change without notice, so if you have dietary restrictions and/or allergies it is critical to read all product labels carefully before purchasing and consuming a product.